Cabo elétrico de alta tensão da bainha do PVC da isolação da isolação 110kv XLPE
1. Padrão Aplicável:
GB / T 11017-2014, GB / Z 18890, IEC 60840, IEC 62067

2. Vantagens do cabo de alimentação isolado com XLPE
Comparado com cabos de isolamento de papel ou PVC, os cabos de potência de isolamento XLPE são com melhor desempenho de função elétrica, resistência mecânica, resistência ao envelhecimento, eco-friendly e resistência à corrosão. Além disso, eles são para instalação mais conveniente e longo tempo de operação em alta temperatura que pode ser colocado sem qualquer restrição de queda.

3. Descrição do produto
Conductor
Adopting copper or aluminum, it depends on economic consideration.
Tightly compressed conductor with good roundness and smooth surface.
Those above 800mm2 adopt five sectors design to reduce skin effect and neighboring effect.
Semi-conductive wrapping tape is to prevent penetration from inner screen to conductor and improve smoothness of inner screen.
Inner/Outer screen
All adopt imported super-smooth cross-linked polyethylene screen material. The surface shall be smooth and electric field shall uniformly distribute.
Insulation
Adopt imported super-smooth cross-linked polyethylene insulation material.
Extruded with inner and outer screens together, compactly combined.
Using gravity feeding to prevent external influences and ensure purity of raw material.
Advanced process expels internal stress of insulation. High roundness and small eccentricity.
Water buffer layer
High-performance water-blocking material ensures better water blocking property of cables.
Buffer layer design ensures enough expansion space for insulation.
Metallic screen
Meets the requirement of metallic screen and system short-circuit capacity.
Radial waterproof corrugated aluminum sleeve has excellent mechanical strength to protect insulated cores of cable.
Or, adopt copper wire screen.
Bitumen
Anti-corrosion asphalt can effectively protect aluminum sleeve.
Over sheath
Extruded PE or PVC material
Optional low smoke low halogen and low smoke zero halogen material
Optional flame retardant, termite prevention materials, to meet the need in different occasions.
Semi-conductive layer
Continuous, bright graphite coating, as the electrode of outer sheath for voltage test.
Optional extruded semi-conductive layer.
Condição de instalação por cabo
Rated Voltage
50/66 kV
Conductor Section
mm2
240
300
400
500
630
800(C)
800(M)
1000
1200
1400
1600
2000
2500
1) Directly Buried
Trefoil Formation
A
479
539
652
734
822
906
950
1045
1110
1173
1224
1314
1373
Flat Formation
A
529
597
725
809
936
1050
1090
1221
1313
1410
1488
1641
1745
2) In Air
Trefoil Formation
A
610
692
801
916
1044
1172
1239
1392
1500
1610
1703
1861
2010
Flat Formation
A
677
758
902
1041
1203
1371
1432
1633
1778
1933
2063
2297
2522
3) In Duct
Trefoil Formation
A
504
569
681
749
879
983
1025
1148
1234
1323
1397
1520
1628
Flat Formation
A
508
574
687
767
888
992
1034
1158
1246
1336
1411
1536
1648
Max operating temp. of conductor.
ºC
90
90
90
90
90
90
90
90
90
90
90
90
90

Rated Voltage
64/110 kV
Conductor Section
mm2
240
300
400
500
630
800(C)
800(M)
1000
1200
1400
1600
2000
2500
1) Directly Buried
Trefoil Formation
A
527
571
647
729
766
903
946
1035
1100
1165
1218
1296
1368
Flat Formation
A
572
623
714
811
922
1034
1076
1202
1290
1384
1463
1590
1709
2) In Air
Trefoil Formation
A
605
688
793
906
1033
1163
1227
1374
1480
1591
1686
1841
1994
Flat Formation
A
662
758
882
1017
1173
1338
1403
1594
1728
1878
2006
2227
2449
3) In Duct
Trefoil Formation
A
522
589
673
739
868
973
1014
1131
1213
1300
1372
1487
1592
Flat Formation
A
525
594
679
757
876
983
1023
1142
1224
1312
1385
1502
1610
Max operating temp. of conductor.
ºC
90
90
90
90
90
90
90
90
90
90
90
90
90
Fator de classificação para temperatura do solo
| | | | | | | | | |
| --- | --- | --- | --- | --- | --- | --- | --- | --- |
| Ambient temp.( ºC) | 10 | 15 | 20 | 25 | 30 | 35 | 40 | 45 |
| Effect coeff. | 1.07 | 1.04 | 1.00 | 0.96 | 0.93 | 0.89 | 0.84 | 0.80 |
Fator de classificação para resistividade térmica do solo
| | | | | | | | |
| --- | --- | --- | --- | --- | --- | --- | --- |
| Thermal coefficient (ºCm/W) | 0.7 | 1.0 | 1.2 | 1.5 | 2.0 | 2.5 | 3.0 |
| Effect coeff. | 1.14 | 1.00 | 0.93 | 0.84 | 0.74 | 0.67 | 0.61 |
Fator de classificação para profundidade de colocação
| | | | | | | |
| --- | --- | --- | --- | --- | --- | --- |
| Burial depth (M) | 0.50 | 0.70 | 0.90 | 1.00 | 1.20 | 1.50 |
| Effect coeff. | 1.10 | 1.05 | 1.01 | 1.00 | 0.98 | 0.95 |
Fator de classificação para a temperatura do ar
| | | | | | | | | | | | |
| --- | --- | --- | --- | --- | --- | --- | --- | --- | --- | --- | --- |
| Air Temp.( ºC) | 5 | 10 | 15 | 20 | 25 | 30 | 35 | 40 | 45 | 50 | 55 |
| Effect coeff. | 1.28 | 1.24 | 1.19 | 1.15 | 1.10 | 1.05 | 1.00 | 0.95 | 0.89 | 0.83 | 0.77 |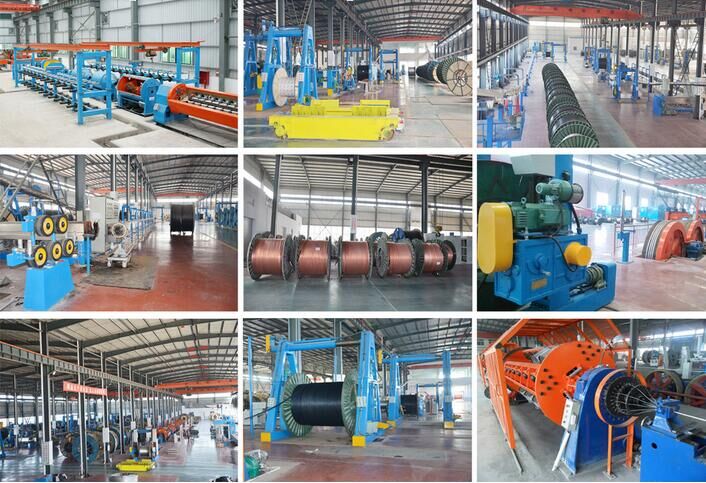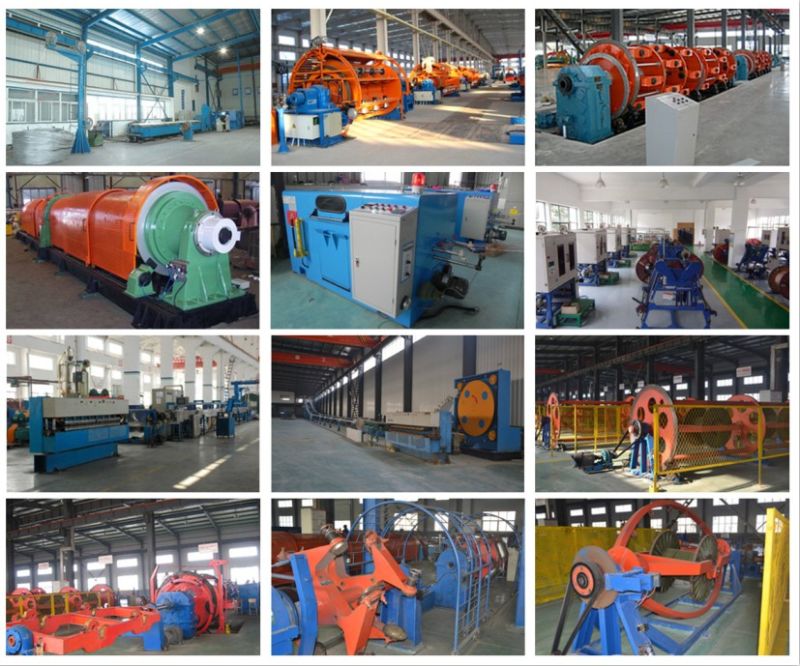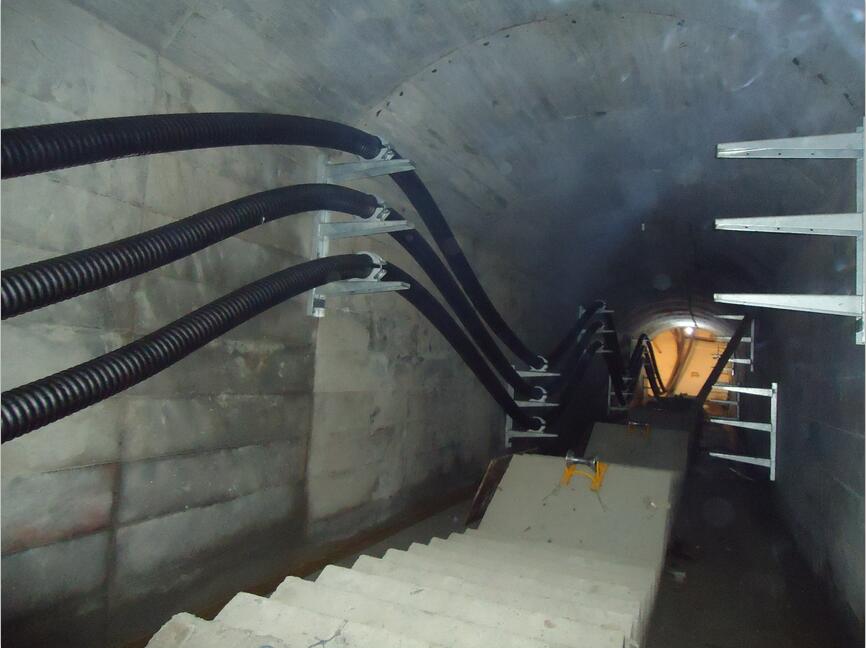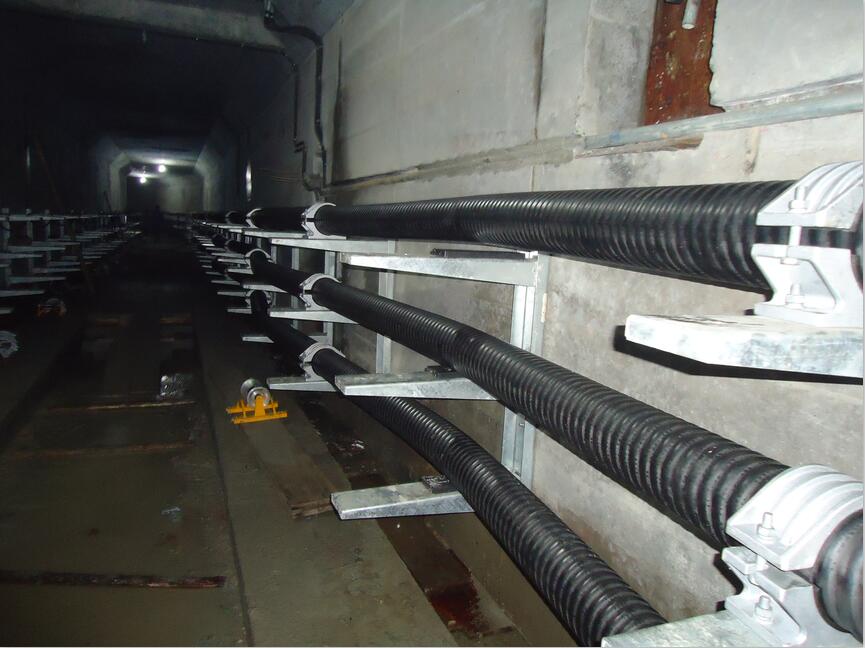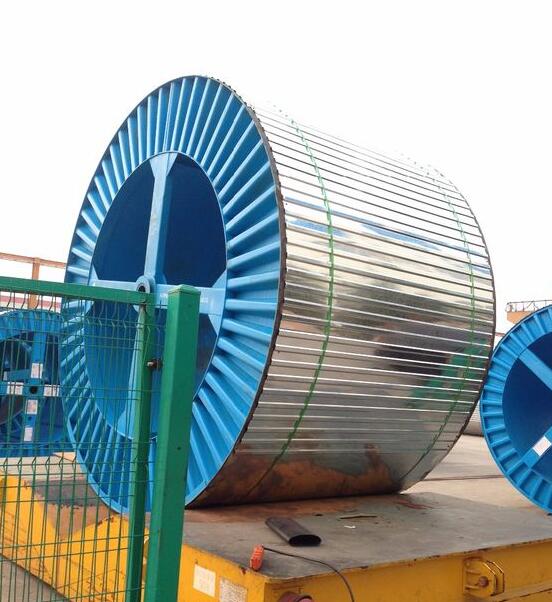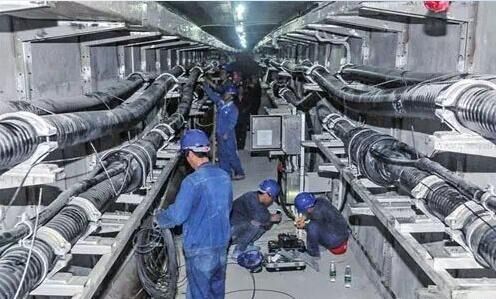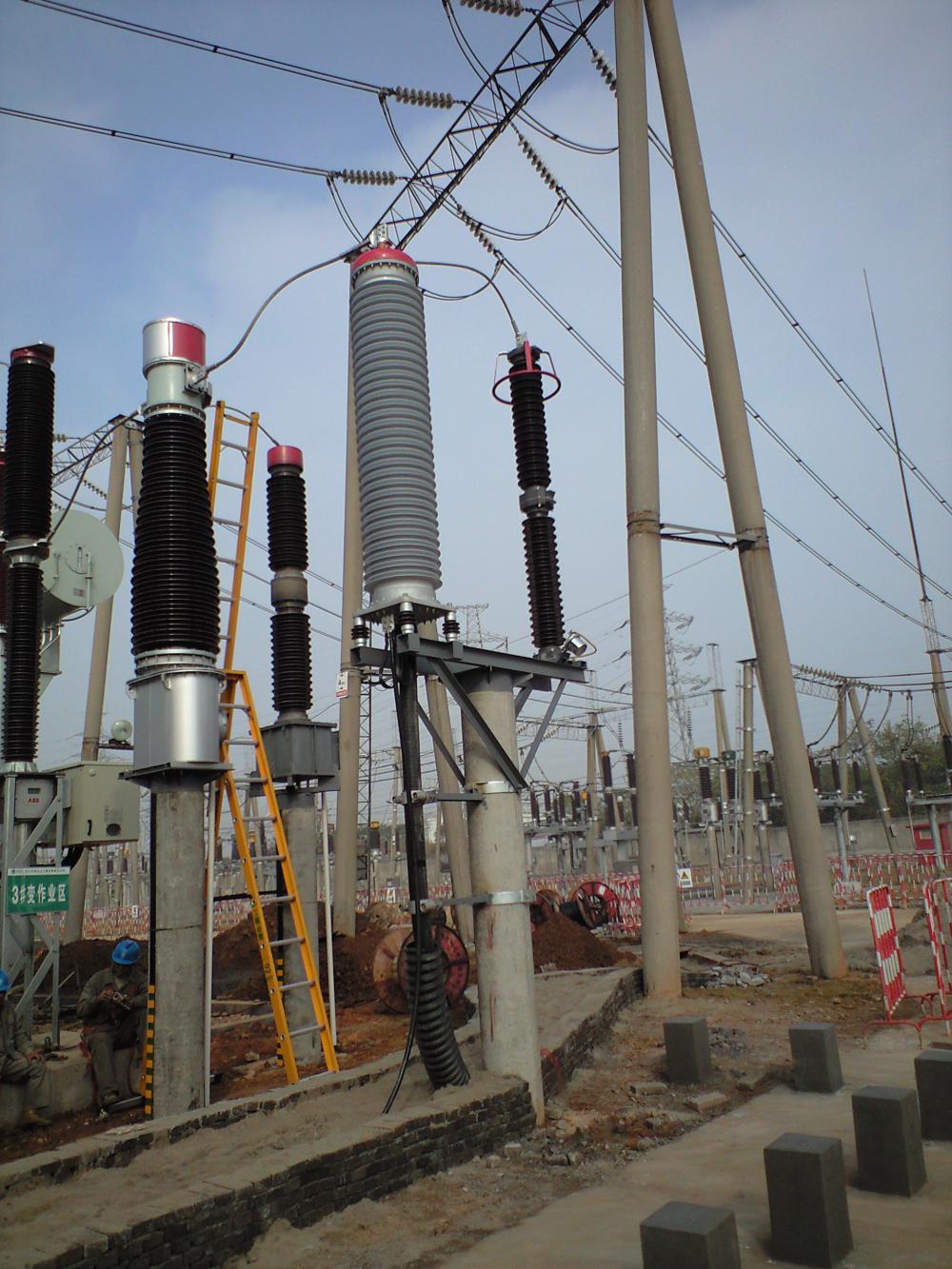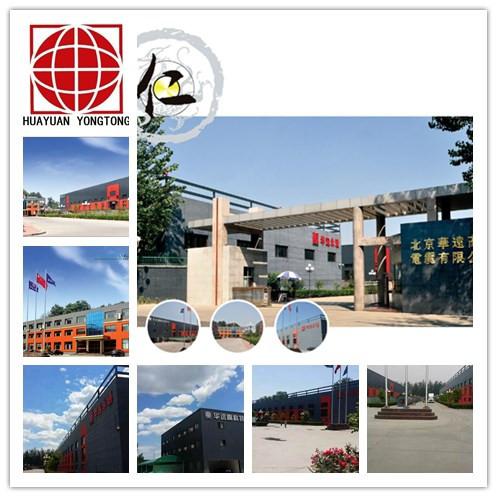 Cabo de potência 1.High voltage 2.Single condutor de alumínio do núcleo cabo 3.Electrical dos fios de cabo 4.110kv fio 5.Building cabo 6.Underground
Grupo de Produto : Cabo de alimentação de alta tensão